We had great fun taking pictures at the Bath Skyline 10k with Relish Running in December. There was ice, mud, hills, views, mince pies and to cap it off our awesome race medals.
If you fancy a challenge in January we recommend this race for it's beautiful scenery and great atmosphere. But don't take our word for it; here is our summary of the route;
The weather was beautiful, with clear blue skies and a frost on the ground. Many runners hid in their cars until it was time to race as there was a cold wind blowing through the event village.
The race started and I was still taking off my layers so I had missed the start! I ran out of the university car park onto a path which crossed a footpath bridge and there I could see the back of the field beginning a short climb up to a woodland path. This was a nice way to ensure everyone warmed up quickly!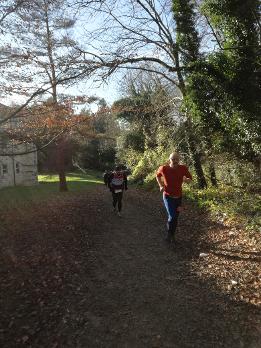 Puffing my way past a number of runners, the path then flattens and meanders through the woodland. Here you can catch your breathe, chat and enjoy the scenery. At the end of the footpath you pop up onto the golf course. With no shelter from the trees; the cold wind was very cooling and the ground was very frosty.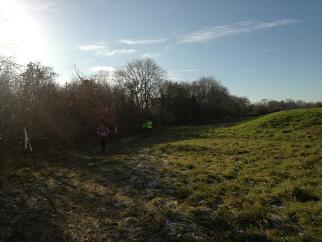 I bounced along the fields until I saw another hi-vis volunteer who directed us into the woods. This is where the fun started! The path drops down, and you have to concentrate on where you place your feet. There were tree routes, stones, slippery mud, hard mud, low hanging branches and other runners to look out for. I'm used to this so I happily run down dodging runners ahead of me. There were a few impressive slips but no falls. Some runners had chosen to walk the difficult sections and take their time. I, on the other hand see this as a great opportunity to play and trust my trainers will dig in so that I don't face plant.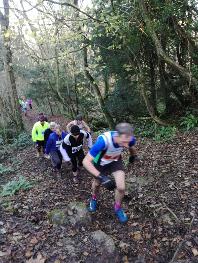 After all the downhill fun; you know that it's going to happen..the route starts to climb back up. This section is a little bit more challenging so many succumbed to a panting march up the path. I took quite a few pictures here (on my Facebook page 'The MedalistUK') and tried to encourage everyone to pretend to be enjoying themselves for the camera. But don't worry this climb is quite short and before you know it you are at the top with a marshal guiding you to a clearing where the frost and cold air hits you again. Here you think you've done all the climbing but wait; just around the corner is this!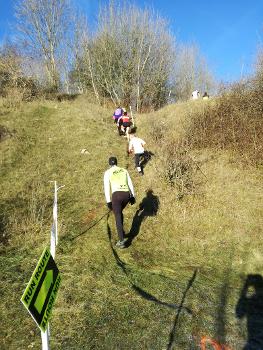 It's only a cheeky climb and is only as long as you can see in the photograph; so pretty short really. At the top of here is a short path through some more woodlands before you get out the other side and that you're smacked with a stunning view of the surrounding countryside and Solsbury Hill. See main picture at the top of this page. This is a great opportunity to pick up speed and pass other more careful runners. I always laugh when I run down hill, not sure why, I'm just enjoying myself. So if you hear a laughing, arm waving girl fly down a hill next to you in a race you'll know it's me.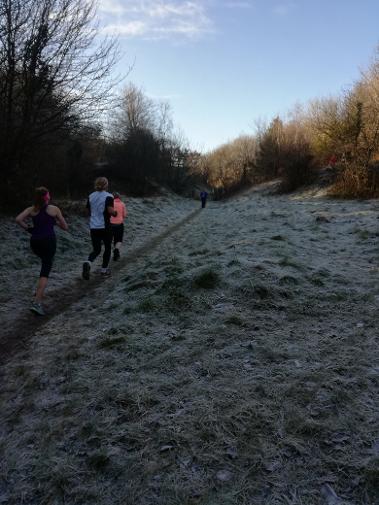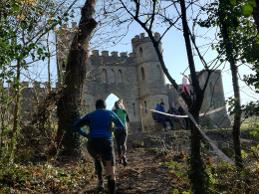 Next the course flattens a little through the open countryside and then you follow a dirt track where the large puddles collect. For those in a rush; it's best to just plough through. Most of the runners around me danced around the outside in an attempt to keep dry but I just splash right through the middle so I'm less likely to fall over and have to dodge anyone else. The route then pops up at Sham Castle. It's not really a castle as it's just a façade but it's still impressive. Don't forget to look over your right shoulder here as Sham looks out across Bath and the views are amazing. Oh and SMILE! There is usually a race photographer in front of you here so put on your best race face ;-)
You then have one more little incline up the fields to the stile and back at the footbridge where you started. You must go back over the bridge and back into the event village. Here you can run past your friends and family pretending that you're enjoying yourself before you venture off for your second lap wishing you had only opted for the 5k, one lap race.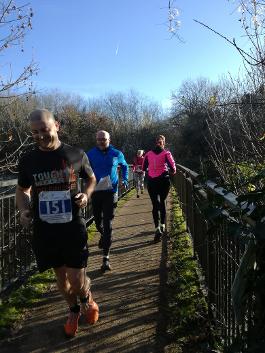 The second lap is easier though as you know what to expect and it's now the finishing lap.
Although the course is bumpy; don't let this put you off; I've seen inspiring runners in their 70's and coach to 5k runners complete this. It's doable for everyone and if you let it, it can actually be lots of fun.
Oh and did we mention the bling? It's fantastic of course because we made it ;-) You'll be able to show all your friends who wimped out of doing it that you smashed it. Stay awesome